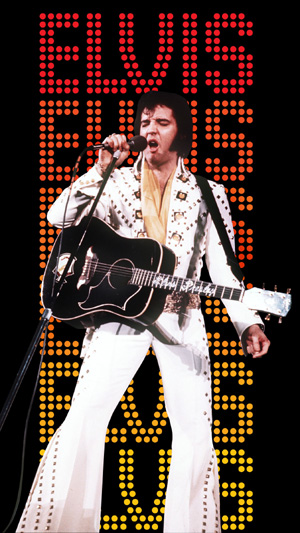 A list of 5 things Elvis taught me about social media.
1. Viva Las Vegas
Elvis was great about seizing the day and living in the moment.  Make sure that you are doing the same thing, and then share it on Twitter and Facebook. Tell people about what you are doing and where you are going. Share the highlights so they can live the glamorous life with you.
2. Sequins and Jumpsuits
No matter where Elvis went he got attention. You could always spot him in a crowd. Create a good image. Customize your twitter background. Have a great profile image. Create a landing page for your Facebook. Customize yourself so you stand our from the crowd. Leave people no mistake who you are!
3. A good Pelvis Thrust
Know how to be playful. Elvis was famous for his pelvis thrust. It made the girls scream and the women blush. What are you doing to get people excited? Be playful, flirty. Have fun with it. Let your freak flag fly!
4. Have Good Hair
Elvis gave great photo! With all the photo apps out there, there is really no excuse for not posting photos.  The great thing is they don't even have to be good! Just post a picture of your self in the car rear view mirror, a snap shot in the bathroom. You don't have to look good, you just have to be you.  People love pics and they will connect with you more if you post them.
5. Be Elvis…or a good impersonator
Elvis lived his brand. He was Elvis all the time! Even most of the impersonators have integrated their Elvis persona into their lives. This is about being your brand.  Being consistent in your brand image is important for building authority and building a strong network. So be you, but make sure that your brand image is a reflection of you.
https://7veils.com/wp-content/uploads/2017/06/logo-7veils.jpg
0
0
7veils
https://7veils.com/wp-content/uploads/2017/06/logo-7veils.jpg
7veils
2011-07-29 08:00:27
2011-07-28 21:20:17
What Elvis Taught Me About Social Media