If you weren't sure if you should get started with Google+, here is another reason to give it a good thought. Hootsuite has announced that they will be supporting Google+ through their platform. This means that Google+ Pages will be able to be monitored much like you monitor your Twitter accounts. However, this is only available to their Enterprise level clients. So the average Josephina will not be able to use this function yet.
The integration will likely be a big cross over point for Google+. This will allow people to increase their engagement and use Google+ more like they use Twitter. They will be able to have columns with their different circles, and will be able to interact with the posts, much like you interact with peoples tweets.
For adult entertainment you can easily categorize people in your circles by fans, pornstars, fetishes, adult sites…or however you want. But it will make interacting with other industry people much easier than it is on Facebook. Of course that is not hard to do, it is almost impossible to do it on Facebook.
This will accomplish 2 things.
1. Circles: It will encourage people to put people and pages into appropriate and topic relevant circles, as opposed to lumping them all into the "friends" circle. The increase in functionality will make browsing the content of the circles much easier to manage. Plus you will have the benefit of having the different columns to show all your circles posts simultaneously, but still categorized in easy to swallow bites.
2. Engagement: It will encourage engagement. The reason why Twitter has the highest level of engagement is because of how the information is presented. The platform is conducive to a high level of conversation. By applying the twitter platform to Google+ Pages, they are encouraging a higher level of engagement with people's posts. This could actually be a breakthrough for Google+ Pages. Facebook pages have always been limited in the level of potential engagement, but this opens things up for the new social network.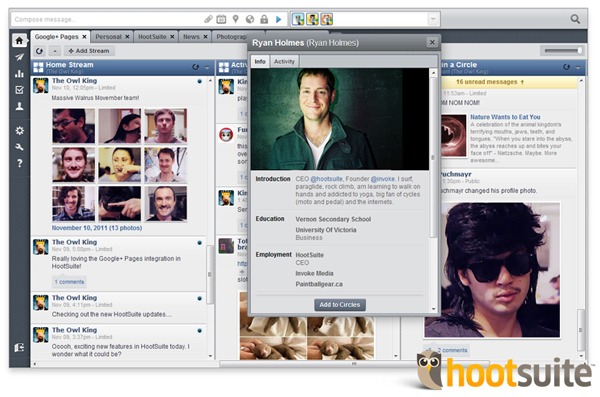 The Hootsuite integration is a big development for Google+ Pages in the social network popularity race. Unfortunately it is only available to the "Enterprise" level clients. Those are the people paying $1500/month to use the platform. Yes, you read that right. Basically if you are a big brand or manage a large number of social media accounts, you are this level user. Maybe we will hear how playboy likes it because right now, not many other people will be using it.
The reason it is being reserved for these high level users is because it is in the beta testing period. They are running it through their power users to vet the new integration for any functionality issues. Hopefully in the near future they will open it up to the rest of us. In the mean time, we can get use to Google+ Pages and get ready for it to be more user friendly on Hootsuite!
https://7veils.com/wp-content/uploads/2017/06/logo-7veils.jpg
0
0
7veils
https://7veils.com/wp-content/uploads/2017/06/logo-7veils.jpg
7veils
2011-12-07 08:00:27
2011-12-06 23:50:03
Google+ on Hootsuite? Yes, if you have the money!